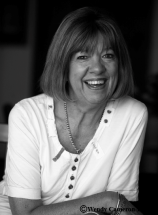 Susie was a truly wonderful person in so many ways.

As a daughter to Molly and Trend, a considerate and fun sister to Wendy and Judy, an excellent student at MacRobertson's Girls High School and Teachers College, a caring and truly professional kindergarten teacher, a wonderful wife of 31 years to Peter, a soul mate, advisor, counsellor and extremely wonderful mother to Sam and Jane.

And of course a friend to so many.
A testament to the contribution Susie left with others was the 1,100+ attendees at her funeral at St Andrew's Anglican Church in Brighton which was full to capacity on that sad day in October 2008.
Susie was born on March 01: 1947 at Brighton Community Hospital and really didn't venture too far from there, growing up in South Caulfield and raising her family in East Brighton.
Susie taught Kindergarten in Chelsea then at St Leonard's from 1972 until the time of her diagnosis on September 28: 2007.

Of the approximately 1800 children who passed by Susie's care, Susie taught the gentle skill of listening to others and to their story, and to be genuinely interested in and enjoy the value of life.
Susie studied overseas at the Reggio Amelia School in Italy in 2000 and returned to St Leonard's with valuable skills and "teaching of the young" techniques.

Highly regarded at St Leonard's, Susie has had a newly constructed Junior School playground named in her honour in 2009. A rare privilege indeed.
Susie was a deeply valued friend and partner of The Rotary Club of Brighton North for 19 years where many strong friendships were formed until her passing.
Susie was an avid reader and belonged to two friendship based book clubs .
Susie enjoyed travelling within Australia and overseas. Her highlight trips would have been to Italy with Peter and her sister Judy and brother-in-law Robert in 2000, a three week visit to her close friend Vivien Gotts in Germany in 2006. A six week long-service trip with Peter in 2007 took Susie to five countries including two weeks in a French village with her close friends Marg and John Balmer. Susie was quite firm that Paris was one her favourite places in the whole wide world and her only wish was that she could take her Sam and Jane to Paris to share the beauty, the history and the wonder.
Of Susie's loves;
She loved her family, every sister, brother in law, sister in law and niece
Susie loved her husband Peter unconditionally and she loved her children equally but differently. Jane always knew of their special bond … and Sam a special relationship including her love of Sam's Madeleine.
She loved teaching and all about children and their happiness. Susie made everyone she touched feel special and loved, and she meant it
The colour red … Susie loved her red car and pretty much anything red.
She loved quality gold jewellery and took great pride and care to wear tasteful jewellery whenever awake.
Susie loved to entertain friends over dinners and luncheons with a wonderful talent for catering for all occasions with deliciously prepared food.
She loved Labrador dogs, Alice the yellow lab when her children were young, Daisy, the black, as the kids grew and moved out. Then Grace, the chocolate coloured Labrador who was a constant source of comfort for Susie in her last months.
Oh how Susie valued her friends. She would listen to their troubles and felt for every need as well as share so many happy times. Susie was blessed with many friends most of whom were with her through the journey.
Susie loved her sport, tried a little golf but really loved watching Melbourne Demons in the AFL and Australia in the cricket.
She loved developing her computer skills
She loved searching for knowledge
She loved all her kindergarten people. The children and the parents and of course her colleagues.
She loved the beach as a child and any opportunity to be out on the Bay in any weather on any day. She was in her perfect happy place on her friend's boat.
Susie loved a glass of champagne at the end of the day
So what did her family love about Susie?
Her unconditional love in return
Her beautiful hair
Her broad and wonderful sense of humour
Her engaging and infectious laugh
Her magnificent nails
Her open friendly smile
Her bravery and courage
Her skill with camera and computer
Her amazing depth of general knowledge
Her skills with the daily target word in the Age
Her servant heart
Her reliability as a friend and her loyalty as a friend
Her achievements, and wonderful example of courage and determination.
Susie is missed and remembered by many.