Follow the Susie Harris Memorial Fund on Facebook and Share your story on our Facebook page
Susie's Story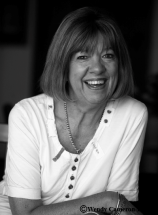 Susie was diagnosed with Motor Neurone Disease on September 2007.
The process of diagnosis began when it was noticed that Susie was slurring her words at times. Susie underwent tests to rule out a stroke, tumor or transient ischemic attack and by a process of elimination, was diagnosed with MND. As it turned out, Susie had noticed the slurred speech a few months earlier but had not said anything about it. She had also found it difficult to breathe when lying flat in bed and needed extra pillows to be comfortable.
With the diagnosis confirmed, Susie went to Bethlehem Hospital to meet her treating team. This team consisted of a Neurologist, Physiotherapist, Occupational Therapist, Speech Pathologist, Respiratory Specialist and a Care Coordinator Nurse. Susie's treating team where extremely knowledgeable and able to explain the disease and provide Susie with strategies to reduce the impact of the disease on activities of daily living. Being MND specialists, they were able to anticipate Susie's needs and aimed to have interventions in place as Susie's support requirements increased.
The main difficulties for Susie were speech and swallowing. As time progressed, Susie's arm strength decreased as did her energy level and dexterity. Following advice from the Speech Pathologist, Susie adjusted her diet to include foods that were easier to swallow and were less likely to cause her to cough. The Occupational Therapist suggested the installation of hand rails in the shower and Susie was also given grips to help her use pens and cutlery. Later on, a nebulizer was introduced to help with swallowing and reduce coughing. Susie also used an automated speaking machine that verbalised the words Susie typed on the keypad. A wheelchair made it easier for Susie navigate the market during her weekly shop with her friends and Sisters.
During the year that Susie fought MND, there were many fun, happy times. A family holiday to Noosa, a mother/daughter trip to Daylesford, the wedding of her niece and many visits to the MCG supporting her beloved Demons. However, Susie loved nothing more than spending time with her family and friends, of which she had many. Her generous nature, loving heart and caring spirit were second to none. Susie always remained positive and showed an internal strength that inspired those around her. An incredible mother, wife, friend, sister, aunty, colleague and teacher, who will be missed by all who were lucky enough to know her.
Click here if you would like to read more about Susie…
Sam's Story (Susie's Son)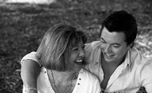 I was in New York when I got a call from my Dad to let me know that Mum was sick. I then heard the following words that changed my life forever –
"Mum's sick son, she's got MND. There is no cure – we think she's got maybe 2 years to live"
This sentence changed my life and was the start of the end of my Mum's life. I will never forget the profound affect it had me.
What this experience has taught me is that this is a horrible, unstoppable disease that attempts to take everything from sufferers. It has taught me that it's people like me that need to step up and make a difference to change the course of this disease.
MND took my Mum from me, took from me one of the most important people in my life that has mothered, cared, protected and helped me – my Mum shaped me into the person I am today and this disease took this person from me. I couldn't do anything to stop what it was doing, nor can I do anything to bring her back.
Once Mum had passed it left me with a horrible sick feeling in my heart. It's a horribly helpless feeling to watch your Mum slowly die – I have managed to turn this hurt and loss into an incredible passion and drive to make a difference in my Mum's name. When you watch someone you love suffer and hurt, you want to help and take away the pain and suffering – I couldn't do that! What I can do is make sure that my Mum's suffering wasn't for nothing.
This is why I started The Susie Harris Memorial Fund – I am so passionate and driven to raise both awareness and money to fight MND. I can see an enormous opportunity to have a positive impact on research and those currently suffering from MND. My Mum – Susie Harris loved helping people, and she can now continue to do that with the Susie Harris Memorial Fund.
Jane's Story (Susie's Daughter)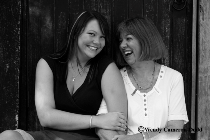 When Mum was diagnosed with Motor Neurone Disease the first thing I said was 'what does that mean?' What it meant was that she had six months to two years to live.
Because I knew nothing about MND, the first thing I did was research, research and more research. Unfortunately, the information I was finding, I didn't like and I had so many unanswered questions; Why Mum? Could it have been avoided? Is it genetic? Am I going to get it? How can we fix her? What can I do to help? I felt helpless, frustrated and scared.
The most frustrating aspect for me was not being told a more specific time frame. You can do a lot more in two years compared to six months. But unfortunately, everyone affected with MND responds differently. It's just hard to try and plan your life when the future is so unknown. I immediately took steps in my life so that I could be more available to Mum and help with what ever she needed. Her needs were very minimal at first, in fact, she almost seemed totally well. Her voice was changing and swallowing was difficult. Apart from that, she was the same loving, caring, supportive mother I'd always known.
Over the next few months, bit by bit, certain things started to become more difficult for Mum. She needed help with tasks requiring fine motor skills (buttoning a shirt) and got sore arms when blow drying her hair or cooking. It must have been so frustrating for her, but the whole time she always remained incredibly positive……..inspiring. I drew from her strength, and as more and more tasks and activities became too difficult for her, we adapted. We either found another way of doing things or we would help Mum with anything she was unable to do. It seemed that just when we had everything covered, something else would become difficult and we had yet another hurdle to get over. But we always found a way.
Mums care team at Bethlehem Hospital were an amazing help. As MND specialists, they were able to anticipate Mums needs and gave advice, equipment and strategies to help her and us cope.
The end came quicker than I expected. Mum died peacefully during an afternoon nap and was in the company of both family and friends. Throughout the 13 months that Mum fought MND she always maintained her dignity, strength and loving spirit. Always caring, always loving, always ready for a laugh. She was, and always will be, my hero.
Peter's Story (Susie's Husband – Widower to MND)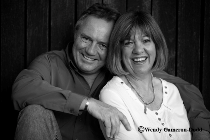 On September 28: 2007 my life as I knew it went totally pear-shaped.
Now this is nothing compared to what my wife Susie was hearing and what she was about to experience.
She had just been told that she had Motor Neurone Disease for which there is……
"no cure, and it's terminal".
Then this poor lady was told she had six months to two years to live, remember … no cure and terminal.
This five minute experience, and the following 54 weeks of caring for a withering body with a strong will, has changed my life in so many ways;
I now value more than ever that every day is a bonus in life's journey.
I see inconveniences as just that and most not worth the worry.
I see sickness, soreness and injury as a treatable inconvenience compared to a death- sentence.
I seek happiness and contentment to mask the continuing hurt of losing a loved-one in such dreadful circumstances and personal distress.
I am protective of my family in their levels of grieving and adjustment to their life without their mother. At the same time trying to live and love at my own pace respecting the options and new-start opportunities which I have at this time of my life.
I am trying to be me and yet work through the expectation of how others look to me for the same wonderful, considerate and motherly idiosyncrasies which my late wife possessed.
I am grateful to have friendships and affection which may lead to future avoidance of a "lonely old-age existence".
And I'm trying to be a worthy example and survivor from a family thrust into despair and sadness.
Jenny's story (Hands Up Grant winner)
I never met Susie Harris, never knew anything about Motor Neurone Disease, but that doesn't matter. What matters is that 500 people die of Motor Neurone Disease in Australia every year, and there is no cure. This has affected me in a way that I never thought it would, and I just want to help and do everything I can to make a difference. I'm really excited to be a part of The Susie Harris Memorial Fund.
Wanting to do as much as I could, I applied for a grant through Vodafone and was successful. This will see me working full time for The Susie Harris Memorial Fund for 4 months. I will spend my 4 months organising our launch event that is to be held at the MCG Members Dining Room on Saturday the 13th of November.
If one life can be saved through the work that we do or one person's quality of life can be improved then that's a difference that I want to make.